School will reopen fully on March 8th 2021 - see latest letter to parents and carers
Welcome to Year 5
Year 5
**UPDATED 21st February 2021**
Dear Parents/Carers,
Welcome back to another half term. It's a short one – just under 5 weeks, but it's great to see the weather beginning to warm, and the early signs of spring starting to show themselves. The lighter evenings certainly help too.
As I have told the class, I am really pleased with the motivation, commitment to learning and overall attitudes that they showed last term. Whether we return to school later in this term, or if it's delayed a little longer, I know that the whole class will make the most of whatever setting they are in.
A timetable is below: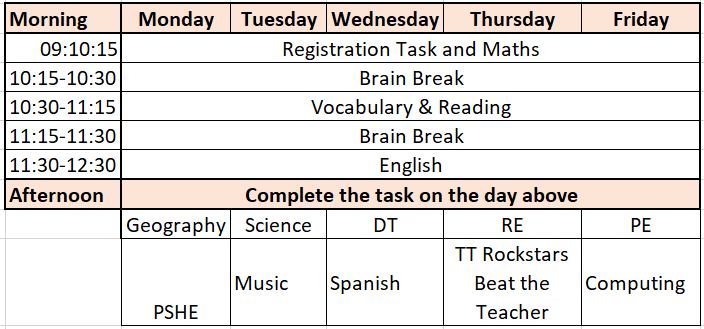 If children need new books or equipment during home learning, please get in touch and I will arrange for some to be available for collection.
Top Tips for Home Learning
Space, and resources can be hard to come by if there are multiple children learning from home; however, to give your child the best chance to participate and learn remotely we recommend the following.
A quiet work space, with a flat surface to work on [books, tea trays or the floor will do if there's nowhere else]. Ideally this would be without distraction from other children or animals.
A fully charged laptop/computer/tablet/smartphone that can access the internet.
To have eaten before the call, and to take snack & toilet breaks during the breaks in lessons.
To have their books and pencils ready for the call.
To join in as much as possible.
Please note the Y5 key worker children in school will continue to log in to Teams and receiving the same lessons as their peers whilst in school on school computers. They will be provided with everything they need in school but will need a packed lunch and water every day.
Pupil Contact and Uploading Work
We will continue to use MS Teams as a primary method of accessing lessons. The whole class are getting good at uploading evidence of their work now, so which has been great for me to see.
Below is an outline of what we'll be studying this half term:
Geography: The Amazon - We continue our geography theme; however, we are now looking more at human geography (the people, places and lifestyles those who live in or near to the Amazon).
Maths – we will continue with decimal fractions before moving on to percentages and geometry.
TT Rockstars is still available to use at home, and is a more interesting way to practise times table's knowledge than just reciting them.
NB The 'Beat the Teacher' challenge is at 2:30pm Thursdays.
Reading – Once we have finished reading Treasure Island, we will move on to some reading comprehension work, supporting children to understand how to answer these types of questions, and then on to Cloud Busting (below). Additional reading should still continue, 4 times per week.
Writing – This half term, the class will imagine their own chapter of Treasure Island based upon Jim Hawkins' adventures there. They will also be creating a non-chronological report based upon a new unknown planet – linked to Science, and we will read the novel 'Cloud Busting' by Malorie Blackman, and use the poetic structures in the book as inspiration for our own work.
Science – This half term we are looking at 'space'; focusing on the solar system, the Earth and Moon. Furthermore, we will review how have come to look past the 'evidence' we appear see with our eyes – that the Sun revolves around the Earth, and that the Earth is flat!
DT – We will also be designing and making our own 'floating gardens', as a project to help children understand how people who live in flood prone areas can lessen their impact.
Keeping in Contact
As always, if you have any concerns or questions about any aspects of school – please get in touch via email or Class Dojo if you prefer.
Best Wishes and Stay Safe,
Mr Bown
Class 5 Teacher
February 2021
| M | T | W | T | F | WE |
| --- | --- | --- | --- | --- | --- |
| 1 | 2 | 3 | 4 | 5 | 6 |
| 8 | 9 | 10 | 11 | 12 | 13 |
| 15 | 16 | 17 | 18 | 19 | 20 |
| 22 | 23 | 24 | 25 | 26 | 27 |