Welcome to Foundation
Foundation
Please remember your best clothes for our Christmas play on Wednesday.
Our Christmas performance of The Nativity is on Wednesday 13th December at 2.15pm. Due to limited space we can only invite 2 people per family. We look forward to seeing you.
Week beginning 20.11.2017
This week we are continuing with our Celebrations topic. We will focus on weddings and christenings to give children the experience of what they are. If you have any photographs please could you send them in.
Thank you to everybody for the WOW moments. Please continue to send them in so we can add them to our display on the door.
We are now doing PE on Tuesdays and Thursdays. Please can you make sure the children have the correct PE kit in school and that it has their name on it.
I hope you are enjoying our new reading books. There are some lovely new stories. Please look after them and return ready for changing.
Thank you for your support. Please ask if you have any questions.
Week beginning 6.11.2017
Welcome back after half term. I hope you all had a relaxing time. I am sure the children are eager to begin their new topic. It's a very exciting week because Monty our class teddy turns 5. We are going to be celebrating by doing lots of party activities.
Our new topic is Celebrations. Our main celebration is going to be Christmas and we are already busy preparing for our Christmas concert.
We are continuing with PE on a Thursday. Please remember your PE kit.
If you have any questions please feel free to ask.
Week beginning 16.10.2017
This is the final week before our 2 week half term. It is hard to imagine that all the children have come so far in such a short time. Apart from the occasional tears children have now settled in well are into a great routine. Our days are busy and it shows on a Friday when lots of children are so tired.
This week we will be celebrating the festival of Diwali. We are lucky to have one of our own mums visiting to talk about how she celebrates at home with her family.
I wish you a very happy half term and look forward to seeing you in November.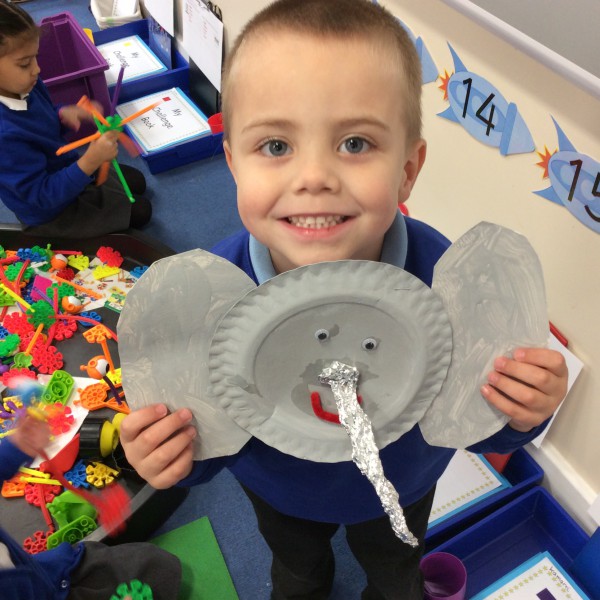 We made paper plate elephants for our display.
Week beginning 2.10.2017
We have had such a busy few weeks and the children have produced so much work and have been so busy. We have been very impressed with their independence and willingness to work on a variety of tasks.
Please can I remind you that we do PE on a Thursday and all children need a PE kit. This should consist of black shorts and a white t-shirt.
This week we have 2 Inset days so we will be extra busy at the beginning of the week to fit all of our work in.
​Thank you for all of your Wow moments. Please continue to send these in as children enjoy having them read out.
September 2017
Welcome to Cherry class. I am pleased to say that all of the children have settled in well and we are now into a good daily routine. We have started a daily phonics and maths lesson and we have now started our independent challenge books.
Reading books are now coming home. We will change them on a Monday and Thursday. Please read 5 times every week. Foundation key words are also included to learn.
Week beginning 10.7.17
The children enjoyed their visit to class 1 last week and now only have a few weeks left in reception. The year has flown by and it has been lovely to see how all the children have grown in confidence.
This week we are continuing with our work on the seaside. Please send in any photographs you have so we can share them together.
We are still continuing with writing and this week we are writing about packing our suitcase for our holiday. In number we are working on partitioning different numbers.
Lets hope the good weather continues.
Week Beginning 26.6.17
This week we are starting work on the seaside. Please send in any photographs of you on holiday for a display.We are going to be looking at postcards and writing our own.
In Maths we are still working on number activities and addition.
Friday is Inset day.
Week Beginning 19.6.17
This week we are working on the book Dear Greenpeace. This is a lovely book about a girl who writes to Greenpeace to get advice about her whale. It lends itself perfectly to nonfiction writing about whales and also letter writing.
We will continue with sentence writing and phonics work.
In Maths we are working on addition and practical work. This will be ongoing for the whole week.
Friday will be our final session for Bikeability. This has been really enjoyable and popular with all of the children.
Please continue to read five times or more at home.
Thank you.
Week Beginning 12.6.17
We had a lovely start to our new topic and the children loved making lots of sea things. This week our story is The Rainbow Fish. We will continue with making lots of fish things.
Writing
We will be working on sentences and independent writing. We will rewrite the story independently and do some descriptive writing.
Number
We are working on subtraction and money. We are going to have a seaside shop and buy things. We will then add up how much we have spent.
On Friday we have Bikeability. This is very popular and we have great fun.
Please continue with reading at home.
Here is a song that the very talented Mrs Moore and our wonderful singers in Foundation have come up with:
Summer 2
Our topic this half term is divided into two. We will be starting with Under the Sea where we will learn about different sea creatures. We will then move onto The Seaside which will let children talk about their holidays and the experiences they have had. It is always a busy half term. We will be continuing with lots of reading, writing and maths.
I would like to have a final push on reading and the amount of times you are reading at home. There will be a prize for anybody who manages to read 5 times a week for the next 7 weeks. Hopefully we can get all of the class.
Have a restful week off.
Amilee enjoyed reading different words.
Week beginning 22.5.2017
This is our final week on the topic of Julia Donaldson stories. It has been great fun and the children have enjoyed lots of different activities.
In English we are going to work on story maps so we can retell the whole story. We will then write the story independently.
In maths we will work on some measuring and some number work. Please continue with number recognition and number ordering at home.
Please can you send in some WOW moments so we can freshen up our display.
Fingers crossed for some better weather this week.
Week beginning 15.5.2017
Our book for the next two weeks is The Smartest Giant in Town. The children really enjoyed listening to it today and then made their own patterned ties.
In maths we are working on measuring.
We will continue to practice our writing skills so please reinforce this at home.
We will have the balance bikes back in school on Friday. The children are really enjoying it and have improved over the past 2 weeks.
Week Beginning 8. 5. 2017
We are still working on the story of A Squash and a Squeeze. We have done some great animal pictures and writing. We are also making pig faces.
In maths we have been working on sharing. We looked at sharing cookies between some teddies then we continued with this independently. We have had a very busy week.
On Friday 12th May we have the bikes back into school to practice some more balancing.
.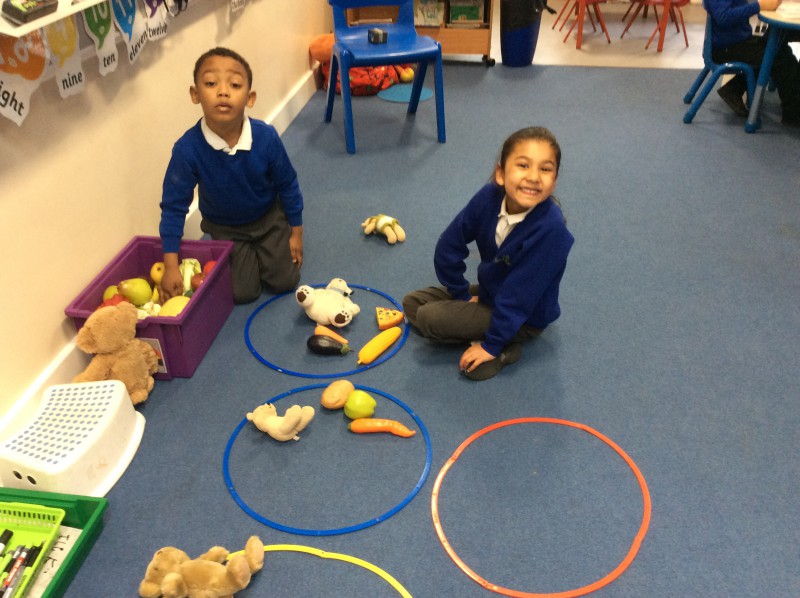 Angel and Kavarn share food between bears.
Week beginning 1.5.17
Our book this week is A Squash and a Squeeze. We will be writing some descriptive sentences about the pictures. In maths we are working on addition. Please reinforce this at home.
Remember to read 5 times every week.
Summer Term
Our topic is the stories by Julia Donaldson. We have started with Room on the Broom. We have had great fun doing different activities and even had a go at making our own potions.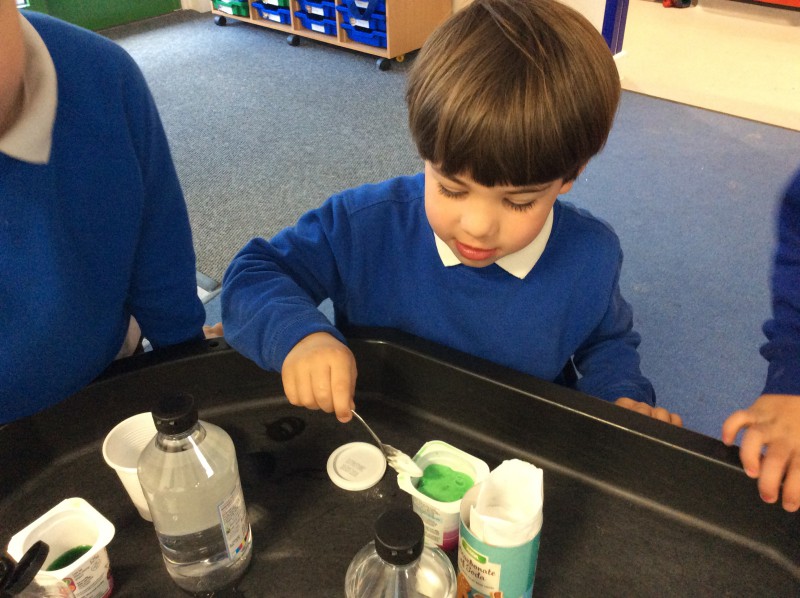 On Wednesday we had the balance bikes. We really enjoyed using them.
Spring Term
This half term our topic is Space. Keep an eye on the website for updates.
Class Challenges- Reading challenge. Read 5 times each week for a treat on a Monday. Please make sure comments are in the record books.
World book day 2.3.2017.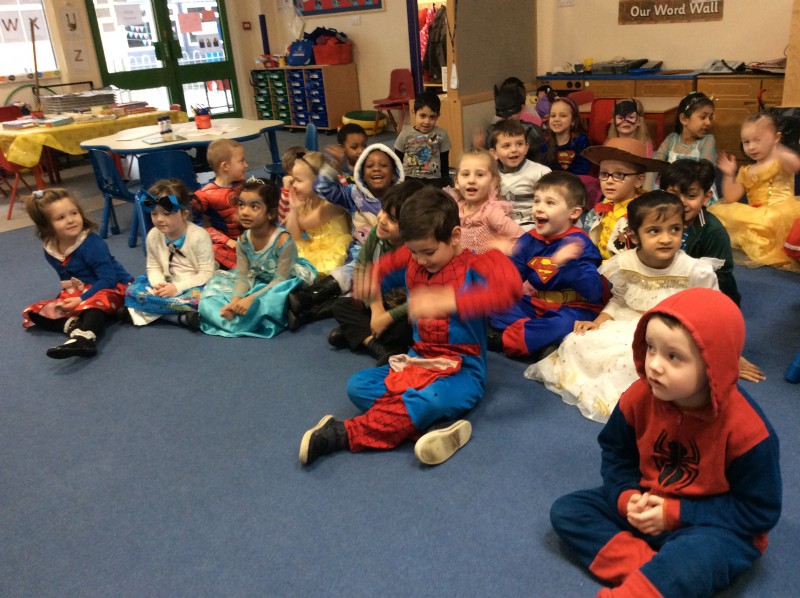 Week Beginning 6.3.2017
This week we are learning about the different planets. We will be looking at rockets and astronauts. This will include watching clips on rocket launches and Tim Peakes in space.
In maths we are working on ordering numbers to 20.
We are continuing to work on writing sentences. Please support your child in their reading and writing at home.
Week beginning 27.3.2017
This has been a busy half term. We have now come to the end of our Space topic. We will be starting work on the books by Julia Donaldson after Easter. I will be sending home Easter homework on Friday. Please support your child to do this. Please continue with Wow moments. Some children do not have any in their books yet.
December 2017
| M | T | W | T | F | WE |
| --- | --- | --- | --- | --- | --- |
| | | | | 1 | 2 |
| 4 | 5 | 6 | 7 | 8 | 9 |
| 11 | 12 | 13 | 14 | 15 | 16 |
| 18 | 19 | 20 | 21 | 22 | 23 |
| 25 | 26 | 27 | 28 | 29 | 30 |